Footer Options
To manage the footer options navigate to Theme Options > General > Footer.
Here you have the following options:
Insert the background image for Footer and option to repeat the image.
Make footer wide. Options are Yes/No
Set Copyright message. Html is not allowed for this field.
Footer columns alignment
Footer widgets
These are the footer area widgets
From Admin – Appearance – Widgets you can populate the footer 3 column widgets that are included in the default theme set-up. To add content to each column use drag and drop.
These are the widgets areas.
Footer widgets used in our demos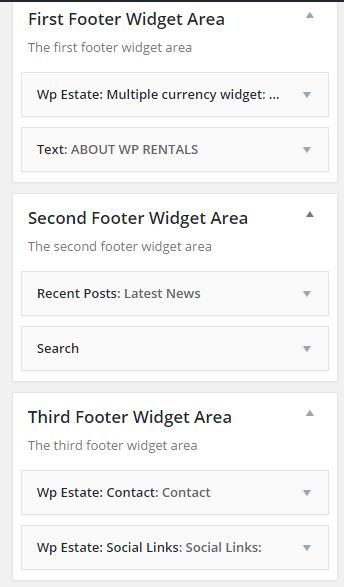 Footer menu
To create the menu go to Appearance > Menu. Create a new menu and add the links using the panels listed on the left.
To show links in footer, add the pages / custom links to the Footer Menu and save.
Footer Colors
Footer colors are managed from WpRentals Options -> Design -> Custom css
Hide Footer
If wish to hide footer use below CSS:
.subfooter_menu {
display: none;
}